The Kulin Water Slide
The Kulin Water Slide is located on the Kulin-lake grace road. The phone number is 0898801222. The Kulin water slide stands at 18 meters high and 182 metres long the Kulin water slide is the largest in regional W.A. The Kulin water slide is open through the summer months of the year; the slide is GREAT FUN and exciting for all ages. Exciting for all ages ok go down and there are people watching you so nothing happens to you when you are going down." Safety" comes first at Kulin pool. So you can enjoy going down the slide in safety but no chains that is when people stop as they are going down the slide and join up that is not "safe". The Kulin water slide is the biggest in the southern hemisphere for a community as big as Kulinís.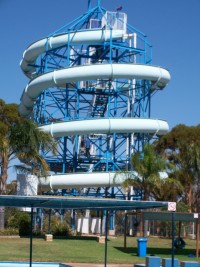 The Kulin Pool
The Kulin Pool is as great as the slide and you will be very safe as the pool manager is Wayne Tyley. He will take care of all your problems so talk to him when ever you need. At the Kulin pool we have great boards a big board for people who are keen and a small board for the younger kids that might want a go as well.
YOU ARE ALWAYS WELCOME TO THE KULIN POOL AND THE WATER SLIDE.